About Us
Our Drivers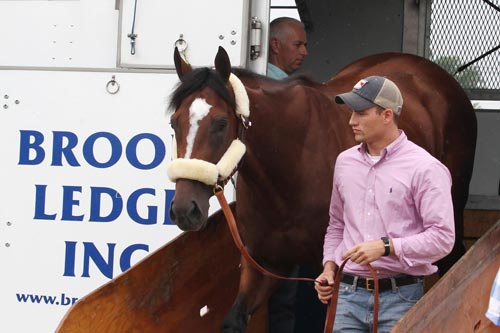 Our professional drivers come from a wide range of backgrounds consisting of trainers, farriers, professional competitive riders, grooms, horse farm managers, yearling managers, broodmare managers and professional horse haulers that have worked for other companies or owned their own. All have extensive horse experience prior to their employment as a horse transporter with Brook Ledge. Most are current or past horse owners and many are second and third generation horse people—the horse is in their blood. We have 30 lead drivers currently employed with us-their average length of employment with Brook Ledge is 13 years. Some of our drivers have two family generations working at Brook Ledge. We are incredibly proud to present our customers with lifelong horsemen and women to ship and care for their horses.
Brook Ledge Inc. operates an over the road fleet with the best equipment in the industry. To keep our vans on the road, we have our own mechanics to ensure the utmost in reliability and safety. The fleet is operated by expert drivers utilizing video monitoring of the horses. They are randomly drug and alcohol tested. We are proud of the fact that we have achieved the Department of Transportation's highest rating. (US DOT# is 85484)
If you would like to join our team please fill out our employment form.